Grey hair is something many of us hate. The gradual change of hair color as years go by is completely normal.
However, if you're not one to like grey hair, I have the perfect product for you. Today I will review one of the most popular shampoos for men, Control GX.
It is a shampoo many of my friends have used for years to combat gray hair. They recommended it to it me, and it changed my life.
Let's get right into Control GX Shampoo Review without wasting any time.
About Control GX Shampoo
Control GX Shampoo is a product by the multinational company, Just For Men. The American brand is well-known worldwide for men's hair care products.
It is currently owned by one of the biggest cosmetics companies in the world, Combe Incorporated. This personal care company is based in New York.
They launched Control GX shampoo as an alternative to hair color, and the idea instantly gained popularity.
It is their highest-selling line of shampoos and is used by men worldwide.
Control GX is a line of shampoos that simultaneously do the job of any good shampoo and hair color solutions.
The unique shampoo is a hair color that reduces grey hair and lightly darkens the shade of your hair over time.
While there are different shampoo products in the Control GX line, the common element is the gradual color of grey hair.
Control GX Shampoo Review:
Here are some of the highest-selling products that are part of the Control GX line by Just for Men.
1. Control GX Shampoo
The classic Control GX shampoo was the first shampoo product by the company.
The highest-selling Control GX shampoo reduced my grey hair by gradually darkening and blending them with the natural shade.
Usually, this takes about a month, with each wash taking away a little grey.
However, this product is not recommended for bleached and colored hair as the company strictly labels it.
It can be used for natural hair colors but works best for mid-brown to black.
Pros
No hassle with hair color.
Reduces grey hair.
Gradual blending.
Cons
2. Control GX 2-in-1 Shampoo and Conditioner
While other Control GX products eliminate the need for hair color, this 2-in-1 product also helps you avoid the hassle of using conditioners.
It is a mix of shampoo and conditioner that reduces grey hair and leaves you beautiful hair.
Overall, Control GX 2 in 1 is a great product that I would recommend to anyone who wishes to have a shiny finish while reducing grey hair simultaneously.
However, the price is almost double that of most everyday shampoos. It costs roughly around $2.25 per Fl Oz.
Pros
Silky, smooth texture.
Shiny hair.
No need for conditioner.
Cons
Relatively more expensive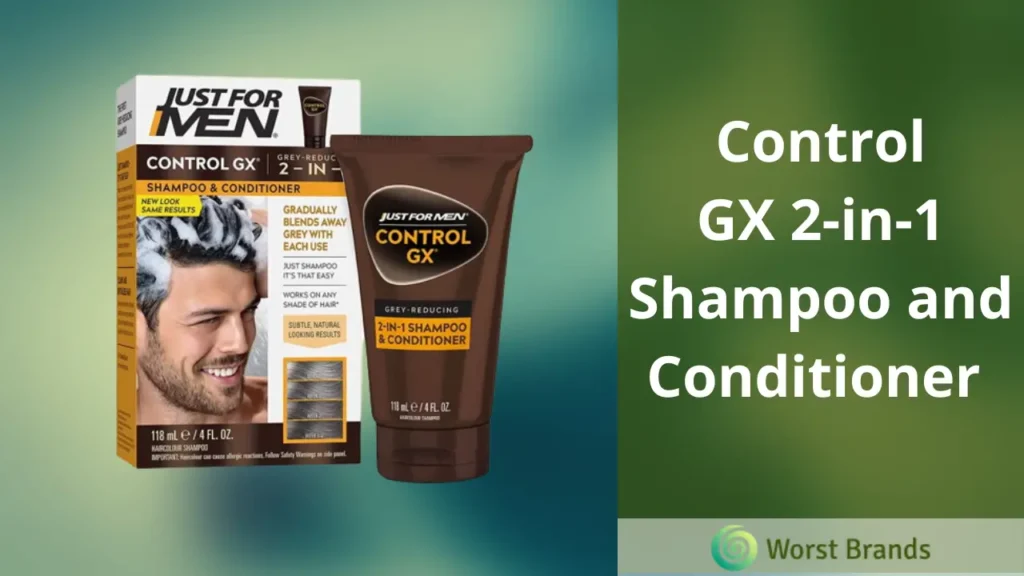 3. Control GX for Lighter Shades Shampoo
This product was designed exclusively for lighter shades of hair color. Most of the products in the Control GX line of shampoos work by darkening the grey hair gradually with each wash.
However, this technique does not work with lighter shades as it may also darken your natural shade.
For this reason, Just For Men launched Control GX for lighter shades to eliminate grey hair while keeping your natural hair color.
Pros
Suitable for lighter shades.
Reduces grey.
Affordable
Cons
Not suitable for all hair types.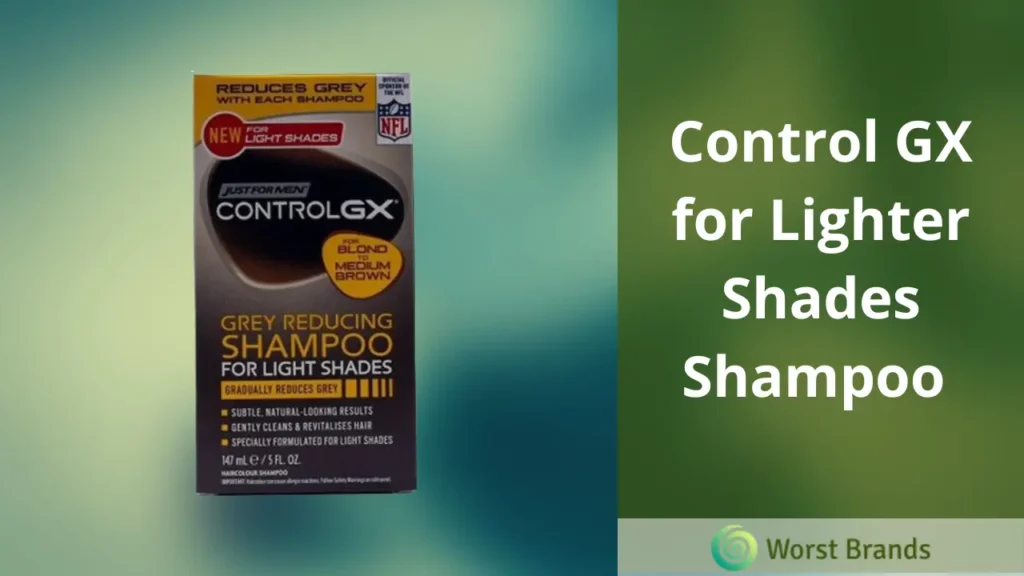 4. Control GX Anti Dandruff Shampoo
Control GX Anti Dandruff is a solution for anyone with a flaky scalp and dandruff. Dandruff often causes itchiness and hair fall. It also makes your hair thinner and weaker.
To address this problem, Control GX has released an Anti Dandruff shampoo formulated with Zinc Pyrithione.
According to a report, this is an active ingredient with anti-bacterial properties. It fights dandruff, while the other ingredients keep your hair moist.
However, many consumers have recently complained about reducing the quantity and increasing the prices of this product.
Initially, it was launched as a 5.5 Oz product but was eventually reduced to 4 Oz while the price increased to $9.
Pros
Eliminates dandruff.
Suitable for dry scalp.
Keeps the hair moist.
Cons
Comparison Table of Different GX Shampoos
| Products | Reduces Grey Hair | For All Hair Types | Affordable & Accessible |
| --- | --- | --- | --- |
| Control GX Shampoo | Yes | Yes | Yes |
| Control GX 2 in 1 | Yes | Yes | No |
| Control GX For Lighter Shades | Yes | No | Yes |
| Control GX Anti Dandruff | Yes | No | No |
Read the following articles to know our expert's review on other shampoo brands:
Customers Review About Control GX Shampoo
This Control GX Shampoo Review would be incomplete without honest words from unbiased customers.
On Amazon, each shampoo from the Control GX collection boasts a rating of 4.4/5, with feedback from over 50 thousand buyers. Each product has more than 80% of these reviews as positive.
Most customers who have used Control GX shampoos say that the product works better than advertised.
According to the reviews on online stores, the unique formula of adding hair color to shampoo is the backbone of this product.
However, some people complained that the difference in hair color and volume is too slow and can only be noticed after using it for a couple of months.
Regardless of the time duration, thousands of users, including me, have noticed less grey hair from using this shampoo.
Hence, this is a shampoo that does exactly what it claims. Using it as shampoo saves me from the hassle of applying hair colors.
The gradual darkening of grey hair is also something consumers love about this product, as sudden hair color is very noticeable.
However, the pigments in the shampoo can cause stains to your shower curtain or skin, just like it did mine. Be sure to use gloves and keep the lather away from shower curtains and clothes.
Is Control GX Worth It?
Control GX shampoos are relatively not very expensive, especially considering the price point of some premium hair colors.
You can easily buy this shampoo for $9 on Amazon, which might be a little more than your everyday shampoo, but it is still much lower than other premium hair products.
Moreover, there are discounts available if you purchase a pack of 3.
While some products in the Control GX line may be labeled a little overpriced, they are still affordable by the majority.
Furthermore, this product is often considered a combo since it also does the job of hair color.
For this reason alone, Control GX is worth every single penny. At least for most of the customers who have to buy shampoos and hair colors separately.
How Often Should You Use Control GX?
Control GX shampoo line can be treated like any other shampoo. Initially, it can be used as an everyday product.
However, due to hair color in the Control GX formula, it is recommended that customers reduce the consistent usage once the grey hair is reduced.
Typically, it takes 3-5 weeks to reduce grey hair. Once that is achieved, you can use the shampoo twice or thrice weekly.
Why Choose Control GX Shampoos?
Here are some reasons why I would recommend Control GX Shampoos to everyone.
Control GX line of shampoos is a great way to save yourself from the hassle of buying shampoos and hair colors separately.
These products can eliminate grey hair with just a few washes.
Control GX Anti Dandruff can treat thin hair and help you eliminate dandruff.
Using Control GX as your shampoo guarantees you silky, shiny hair.
These products improve damaged and porous hair.
Control GX line has products for all shades of hair. The classic shampoo for darker shades and an exclusive shampoo for lighter shades.
These shampoos contain Disodium Lauryl Sulfosuccinate. This chemical creates a nice, foamy lather to clean your hair fully.
While they are relatively more expensive than other shampoos, they save the money you spend buying hair color.
Control GX shampoo improves the health of your hair as well.
Gradual treatment of grey hair helps grab less attention from others for coloring your hair.
Where to Buy Control GX?
One of the best parts about Control GX is that it is easily available worldwide. It is available at the following stores.
Walmart
Target
Amazon
CVS
eBay
Walgreens
RiteAid
You may also find the product at local supermarkets and convenience stores worldwide.
Is Control GX Shampoo Safe?
Yes, Control GX is a safe shampoo to use. Customers haven't reported any side effects.
However, if you're prone to having allergic reactions, it is best to consult a trichologist.
Frequently Asked Questions
Here are some common questions about Control GX answered for you.
Q1: How Long Should You Leave Control GX In Your Hair?
Control GX should be used like any other typical shampoo. You can massage your hair with it and leave it on for 1-2 minutes. After using this shampoo, be sure to give your hair a thorough rinsing.
Q2: How Long Does Control GX Take To Reduce Grey Hair?
Usually, results can be obtained after consistently using this shampoo for 3-4 weeks. During this time, it gradually brings out the natural color of your hair.
Conclusion
To sum up the Control GX Shampoo Review, I can only say that it is a great product to reduce grey hair and enjoy a fresh look permanently.
As a consumer, I have been completely satisfied with the shampoo and have used multiple products from the Control GX line.
There is no doubt that grey hair is often worrying, but if you switch your shampoo, you can eliminate this problem once and for all.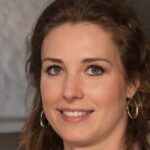 Crystal Hafley is a dedicated writer and content creator for WorstBrands, where she specializes in writing insightful reviews about kitchen appliances and fashion products.
With her expertise, Crystal provides readers with accurate and reliable information to help them make informed decisions about the brands and products they use every day. When she's not researching or writing, Crystal enjoys cooking and exploring the latest fashion trends.