WorstBrands.com is a participant in the Amazon Services LLC Associates Program, an affiliate advertising program designed to provide a means for sites to earn advertising fees by advertising and linking to Amazon.com
Every treadmill has a different way of lubricating the deck. So, we recommend that you read your treadmill owner's manual for lubrication. Also, contact the manufacturer to make sure that you are waxing it correctly.
Waxing and silicone spray are two treadmill lubricant alternatives for preventing belt wear and tear caused by excessive friction between the belt and the deck.
Silicone is the most commonly used lubricant to keep your machine roller in good working condition, but it is not the only solution. There are various treadmills that require a wax lubricant.
The treadmill manufacturers recommend that you must lubricate your treadmill belt every 3 to 6 months, depending on how frequently you use it.
Treadmill Lubricant Alternatives | Wax or Silicone?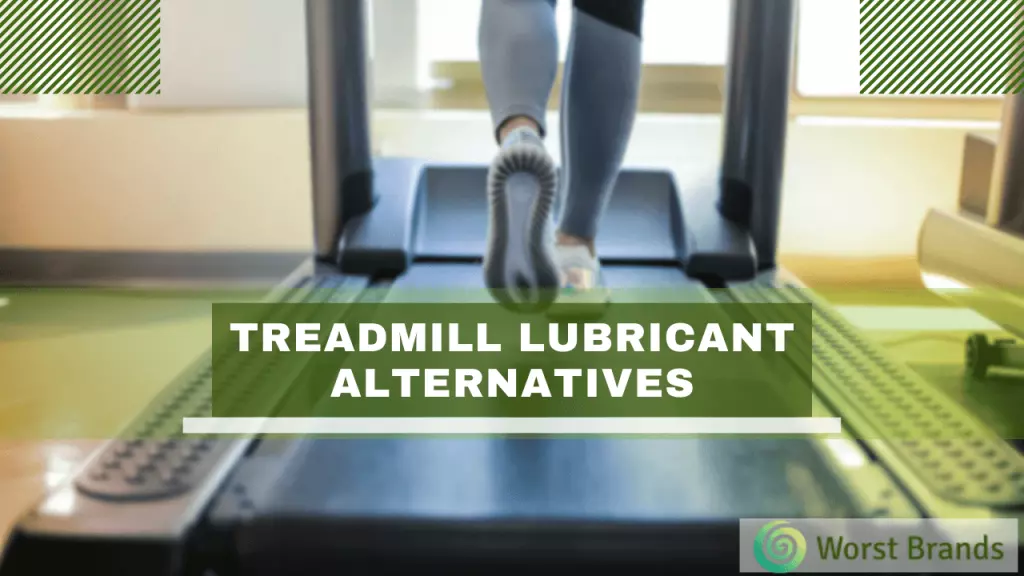 Related:
1) Waxing the Treadmill Deck
In waxing, there are two popular ways. You can either use a wax powder or a wax stick to lubricate the belt.
For wax powder, you can lose the treadmill belt by loosening the back roller. Then sprinkle the wax powder in between the belt and deck on both sides of the track. Once you have done that, you can tighten up your belt and run a treadmill at low speed.
After that, you can test it and make sure you don't have any kind of slipping while running on a track. If the track is still slippery, then you need to tighten up both sides of your back rollers.
For a wax stick or bar, you must first warm up the treadmill for about 15 minutes in order to apply the wax. Treadmills that are older are more likely to require waxing than newer models.
However, before trying any alternative way on your machine, make sure to read the owner's manual. In case you have lost it, contact the manufacturer.
Recommended Treadmill Wax Powder
TreadLife Fitness Powder Wax
Stops Squealing
Easy to apply
Reduces Friction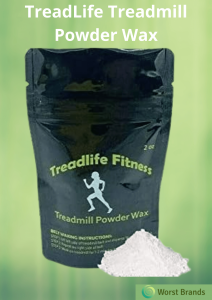 2) 100% Silicone Lubrication
Most treadmill manufacturers recommend lubricating the machine's belt with 100 percent silicone. Silicone can be found in a variety of products that are specially made for treadmills belts.
The silicone lubricants come in the form of spray and liquid, but the spray is more convenient to apply.
How to apply 100% Silicone lubricant spray on the walking belt?
To apply the Silicone Lubricant, check the following steps:
Step 1: Remove the cap and attach the spray tube to the spray nozzle
Step 2: Lift and hold the belt with one hand while you spray the lube towards the center of the belt
Step 3: Use your hand to turn a portion of the belt from the underside and spray again
Step 4: Repeat the steps 2 and 3 on the opposite side of your treadmill
If you have a %100 silicone lubricant in liquid form, you can repeat the same process.
Our Recommended 100% Silicone Lubricant for Treadmills
Spot On Silicone Lubricant
Excellent Flow Control

Reduces Noise

Easy Open Cap Design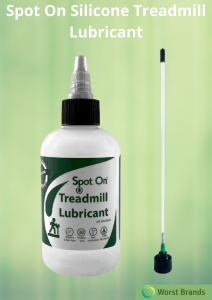 Warning
New treadmill models don't need any lubrication as they are factory coated with high-performance lubricant.
The brands like ProForm, NordicTrack, and Weslo are on the list of treadmills that are pre-lubricated to the walking belt and don't require additional lubrication.
So, if you apply silicone spray on these models, it may cause excessive wear.
Final Words
Your treadmill walking belt is very important to the health and life of your treadmill. One way to extend the life of your treadmill walking belt is to reduce the friction on the motor while in use by preventing the belt from wearing unnecessarily.
You can use a treadmill lubricant alternative to lubricate your treadmill after reading the manual of your brand. Don't use grease or any petroleum-based lubricants. They have a strong smell, which is harmful to your lungs and can also damage your treadmill.
Always use an appropriate silicone-based lubricant to lubricate the walking belt.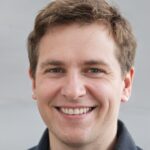 Steven Settles is a professional content writer with over 7 years of experience in writing for different niches, including brand reviews, technology, fitness, and more.
Currently, he is working as a content writer for WorstBrands, where he provides insightful reviews of different products, including home appliances, outdoor gear, fashion, and kitchen products. In his free time, Steven enjoys traveling and exploring new places.