We spend a lot of time cooking in our kitchen, so it pays to make sure our refrigerator does a decent job keeping our food cold.
Unfortunately, not every fridge does the job as well as you would hope. So we tested the top Haier refrigerator models available to see how they measure up.
Which one did we like the most? Find out in our Haier refrigerator review.
Haier Refrigerator Review
Haier has been one of the top brands of major appliances for over 10 years. 
They have the best refrigerators ranging from 220 liters to 701 liters capacity, making them a good option for everyday needs.
These refrigerators will suit you perfectly, whether a bottom mounts refrigerator for small areas or a side-by-side refrigerator for spacious space.
Haier refrigerators have extraordinary features, including an Easy Touch Control panel, Energy Star rating, My Zone, etc. They come with stunning and elegant stainless steel and glass finishes.
However, along with good users, there are some Haier users with various complaints that we will discuss later in this post, and let you know their common Haier refrigerator problems.
So, it is important to know these issues before you decide to buy them.
Reviewing Specifications of Haier Refrigerators
Let's get into the Haier refrigerator key specifications:
| | |
| --- | --- |
| Weight/Height | It varies to each model |
| Energy Consumption | Haier small refrigerators use 180 to 270 kilowatt per hour annually. All their models are Energy efficient certified. |
| Warranty | Haier has 2 years of warranty on the cooling system. Warranty on compressor offered by Haier is up to 10 years. |
| Average Cooling time | Haier takes 3 hours for cooling. |
| Displays | Haier has digital LED displays. Some models also have a motion sensor on displays. |
Reviewing Top Features of Haier Refrigerators
Below are the standard features in Haier Refrigerators:
1. Twin inverter technology
This technology makes sure that both the compressor and fan motor work on the inverter, resulting in lesser fluctuations in the compressor.
2. My Zone
My Zone is a feature that will allow you to choose different temperatures within the refrigerators.
Thus, it keeps your food fresh for a longer time.
3. Quick Freeze
This feature helps you quickly freeze the meats, seafood, or other groceries you have just bought from the market in no time.
4. Door Alarm
You can hear the alarm if you accidentally leave your door open to remind you to shut the fridge door so that you don't lose the temperature.
But they do not have a smart alert system like other brands have.
5. No Frost
Haier refrigerators have no frost, which means you don't have to deep-freeze your fridge from time to time.
Just wipe it down with a clean cloth, and you are done.
6. Multi-Flow
The multi-Flow feature ensures even temperature throughout the fridge.
Cool air circulates around the cabinets, and the back walls food will stay fresher for longer.
7. Switch Zone
This feature allows you to switch the fridge to the freezer and the freezer to the fridge according to your needs. 
They provide you with an extra compartment for it. So you do not need to worry about the tons of groceries you have bought from the market.
8. Humidity and Dry Zones
These features have helped in the proper preservation of food and nutrient for a long time.
Humidity Zone has a fiber membrane responsible for keeping humidity up to 90%, while Dry Zone keeps humidity as low as 45%.
It gives you the facility to separately store your food according to their required temperature and humidity level.
9. Fingerprint Resistant
Stainless Steel large capacity refrigerators have a fingerprint-resistant coating that makes smudge-proof look clean.
The Haier also has sleek, elegant designs like other brands.
10. Anti-bacterial Air Flow
Some models have anti-bacterial treatment by using ultraviolet light in the airflow system to inhibit bacterial growth, thus improving hygiene and food preservation.
It helps in increasing the shelf life of your food.
Some Common Issues of Haier Refrigerators:
Haier claims noise-free models, but some customers complain about buzzing sound a few days after purchase.
Haier refrigerators also have complaints about the fan, cooling, and motor.
Some customers also report compressor failures and dysfunctions.
5 Reliable Haier Refrigerators Reviewed
After testing various Haier refrigerator models, the below mentioned are our top picks to buy in 2022.
1. Haier HRF-3674 Review | Double Door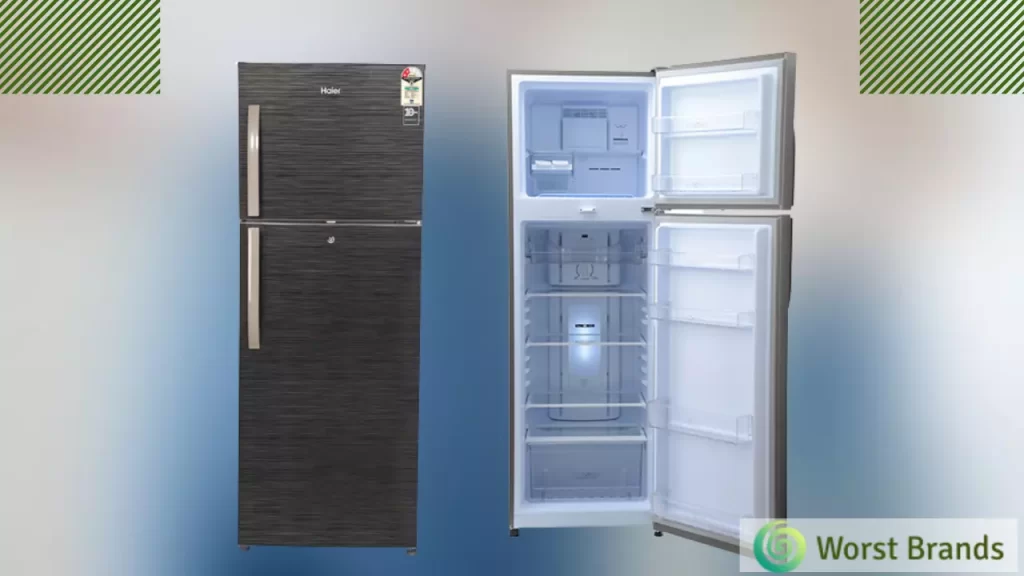 Winning Specs:
347-liter capacity
Frost free
5-year warranty
Multi-flow and 360-degree cooling
1-hour icing technology
With the latest technologies, Haier has created a new generation of sleek, stylish, and energy-efficient refrigerators.
The Haier HRF-3674BKS-E is a double-door refrigerator with a capacity of 347 liters. It's also a frost-free refrigerator with a water dispenser and ice maker.
It's designed with a 5-year warranty and 1-hour icing technology. It has a multi-flow cooling system that operates smoothly with fewer noises and lowers energy consumption.
However, some users have complained about the cooling system, which starts malfunctioning. But the majority of the users are happy with the purchase.
2. Haier HEF-25tds Review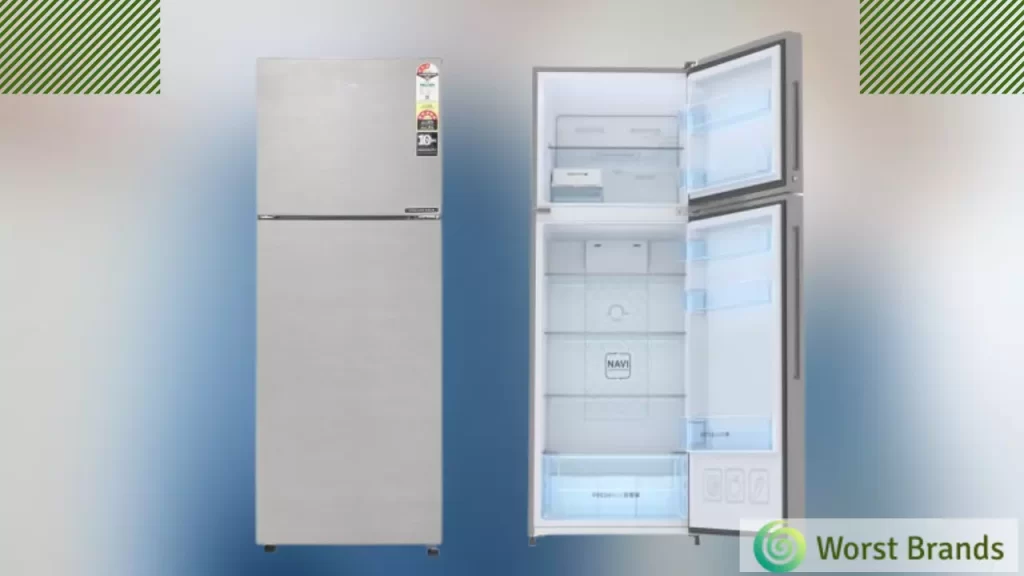 Winning Specs:
258-liter capacity
Turbo icing technology
PUF insulation
3 star Energy rating
Twin inverter technology
10-year warranty
The Haier HEF-25tds refrigerator has a turbo icing technology that ensures that the ice stays solid, and there's no need to keep on refilling it with water. This feature saves us a lot of time and energy.
Haier's Turbo Ice technology will help you get all your ice quickly, and the unit is built with PUF insulation to keep it cool. This makes it perfect for keeping food fresh and healthy.
The Haier HEF-25tds has a twin inverter technology that ensures that the unit doesn't waste power. A stabilizer-free and 5-in-1 convertible fridge makes it easy to use.
It's got a 3-star energy rating and a 10-year warranty, so you know you're getting a good deal here.
But, if we talk about the drawbacks, there is no smart diagnosis, and this fridge is not a pick for big families.
3. Haier HRF-758S Review | Side by Side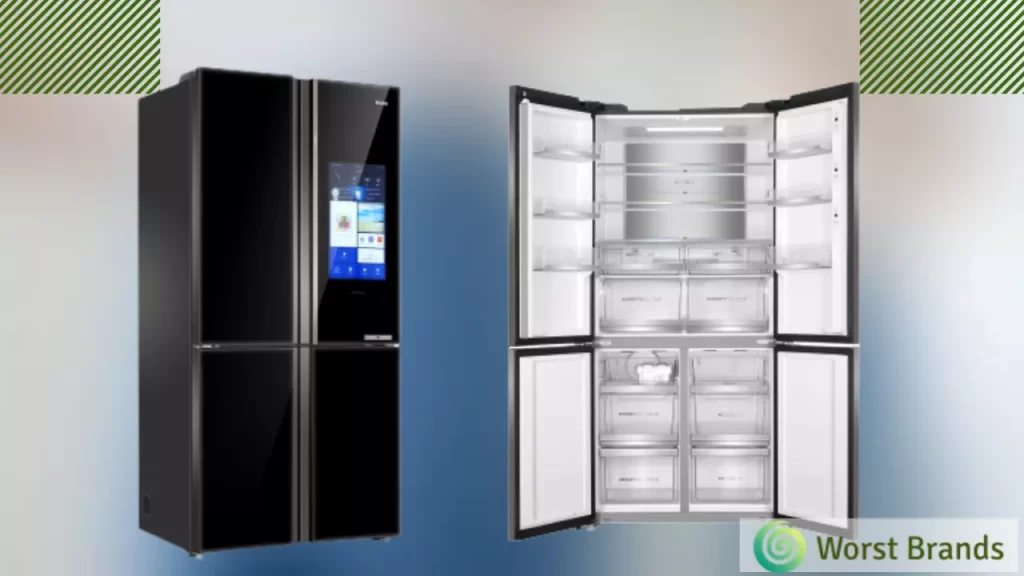 Winning Specs:
Smart refrigerator
508-liter capacity
Frost-free and anti-fungal technology
10-year warranty
The Haier Haier HRF-758S side-by-side refrigerator is a great choice for any family who likes to keep a healthy diet.
It comes with a high-capacity, 21.5-inch screen, which is perfect for the entire family to enjoy their food.
The Haier HRF-758S has a smart feature that allows you to easily manage your food and drinks.
Also, it comes with twin inverters, which ensures that it doesn't have any issues with the power supply. 
It also comes with an anti-fungal and frost-free technology that keeps food fresh for longer.
However, the fridge comes without a dispenser.
4. Haier HRF-578TBG Review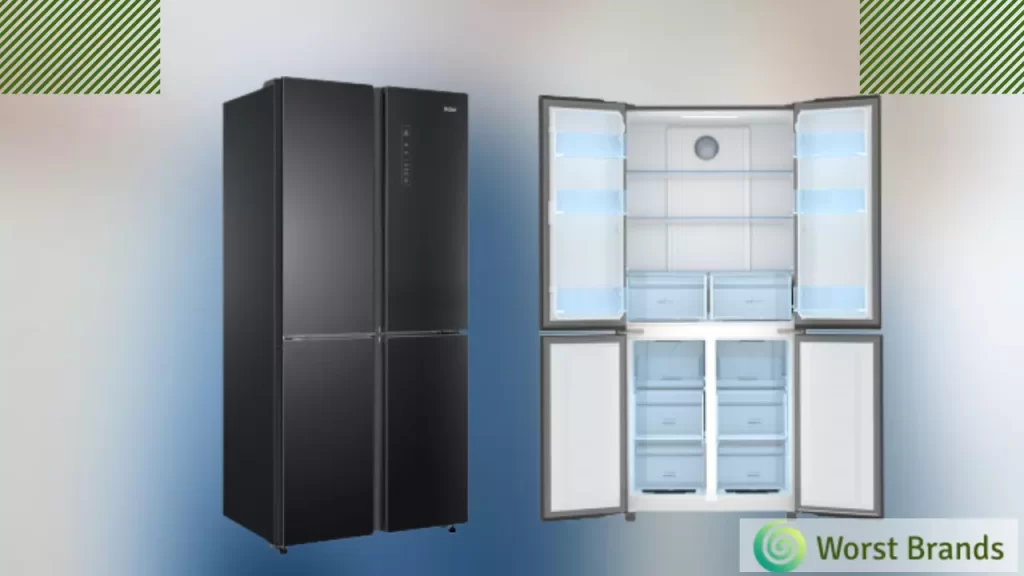 Winning Specs:
456-liter capacity
Anti-bacterial technology
Twin inverter technology
Dry zone and humidity zone
42 dB noise level
The Haier HRF-578TBG is extremely quiet and has a lot of useful features.
It has a net capacity of 456 liters, which is enough for a family of 4. The Haier HRF-578TBG also has a triple cooling system, so there's no need to worry about running out of room in the freezer or the fridge.
The fridge also has a twin inverter technology, which means it can run on both AC and DC power.
The fridge has a smart humidity control feature too, which automatically regulates the humidity inside the fridge to make sure everything stays fresh and clean.
The fridge also has a 3-year warranty on its compressor, so you will get it fixed for free if it stops working.
However, there are some complaints regarding noisy compressor and cooling system. So make sure to verify it from a manufacturer before buying.
5. Haier HRF-622IBS Review | Side by Side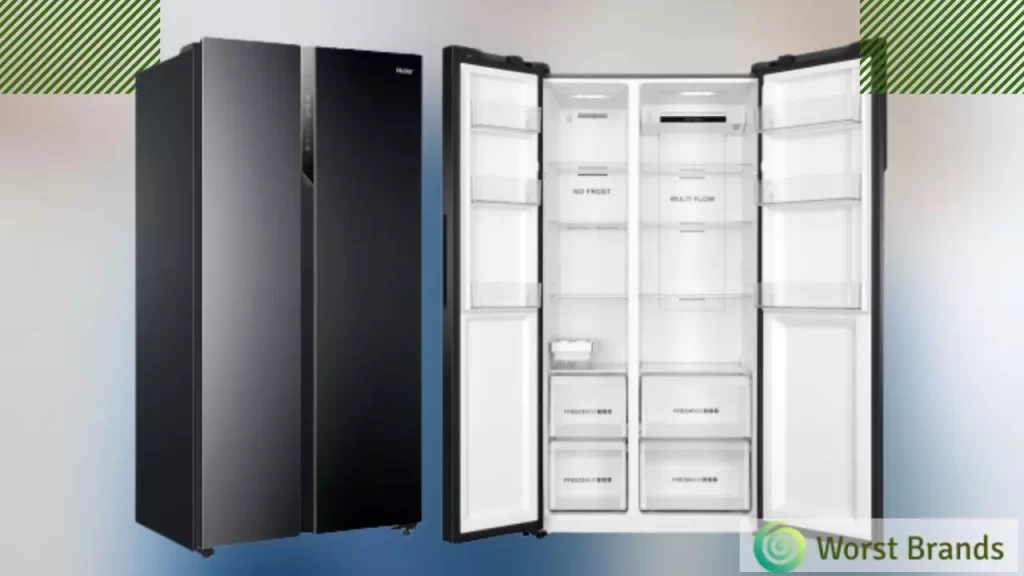 Winning Specs:
465-liter capacity
Twin inverter technology
DEO Fresh System
Integrated Digital Display
Turbo cooling
The Haier HRF-622IBS refrigerator comes with a large capacity of 465 liters, which is a lot more than most refrigerators.
It is also a Twin inverter model. It has two independent inverters, allowing it to work even when one fails.
The Haier HRF-622IBS comes with a DEO Fresh system that can keep fresh food fresher for up to 4 days after opening. This is important for families who eat out often or have busy schedules.
The door suspension system makes it easier to access foods on the top shelf, and it also allows you to store larger items like bottles and cans without them rolling off the shelves.
This is great for families with kids as they can set the display to remind them to replace the food before it goes bad.
However, this model is not recommended for small living areas.
Final Thoughts
If you are looking for a quality and reliable refrigerator Haier Refrigerators are a good choice.
Above mentioned Haier Refrigerator reviews and suggestions can help you to buy the best Haier refrigerator for your home.
If you have any other queries about Haier Refrigerators then you can leave your comments in the comment section.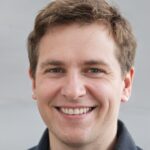 Steven Settles is a professional content writer with over 7 years of experience in writing for different niches, including brand reviews, technology, fitness, and more.
Currently, he is working as a content writer for WorstBrands, where he provides insightful reviews of different products, including home appliances, outdoor gear, fashion, and kitchen products. In his free time, Steven enjoys traveling and exploring new places.