As a vinyl enthusiast, there's nothing more disappointing than spending your hard-earned money on a subpar record player.
We've all been there, eager to spin our favorite records, only to be met with lackluster sound and constant skipping.
This post will uncover the worst record players to avoid, so you can make a better decision. Let's dive in and save you the headache of listening to bad record players.
| Brand | Issues |
| --- | --- |
| Crosley | Poor speaker quality, unreliable tonearm, pitch control and motor issues, lack of customer support or warranty assistance |
| Victrola | Unstable and glitchy connection, frequent app crashes, inconsistent motor speed, unresponsive customer support |
| House of Marley | Bluetooth connectivity problems, sound output limited to one speaker, balancing issues, manufacturing inconsistencies, power issues, faulty tonearms |
| DIGITNOW | Underwhelming sound quality, flimsy build, inconsistent tracking, unstable platter, speed stability issues |
Worst Record Players
Crosley, Victrola, House of Marley, and DIGITNOW vinyl turntables are the worst record player brands based on consistent performance, build quality, and sound.
Crosley
It's true that Crosley record players often come in attractive designs and boast affordable prices.
But sadly, the brand does not live up to the expectations that come with their appearance.
Many Crosley owners have faced issues with the speakers, often described as poor quality, as they have to buy additional speakers.
Another common problem is the tonearm and counterweight, which lack precision and reliability.
This can lead to the needle not staying in the grooves properly, causing the record to skip.
Additionally, there are issues with the pitch control and motor, resulting in altered playback speed that negatively affects the listening experience.
Unfortunately, reaching out to the company for support or warranty assistance has proven to be a challenge for many users,
Considering all of these factors, it's clear that Crosley's record players fall short in various areas, and it is definitely one of the bad record player brands to avoid.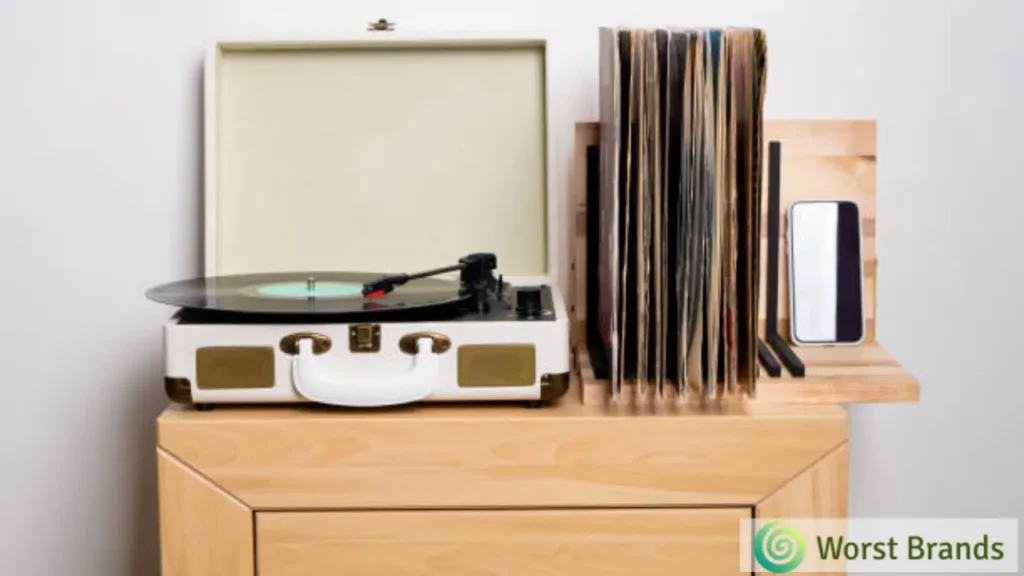 Read about other worst musical instruments:
Victrola
When I tested the Victrola Stream Onyx Turntable, I was initially drawn to its compatibility with Sonos and its sleek design.
The setup process was straightforward, and the turntable looked great in my music room.
However, despite my initial excitement, I soon encountered several issues that made it the worst record player I've ever used.
One of the main problems was the unstable and glitchy connection.
Even after making the recommended adjustments, playing an entire side of a record without interruptions was challenging.
The sound quality was decent when connected, but the accompanying app frequently crashed.
As an audiophile, I spent considerable time trying to make the turntable work. Still, it ultimately proved to be more of a hassle than an enjoyable experience.
I also noticed that the motor speed was inconsistent, causing fluctuations in the playback speed at both 33 and 45 RPM settings.
Attempting to contact Victrola's customer support was fruitless, with my calls going unanswered and my emails being ignored.
After waiting for a response for weeks, I accepted that the issue might not be resolved.
The overall experience with the Victrola Stream Onyx Turntable was disappointing.
I cannot recommend this record player with a high price tag of over $500 and numerous issues ranging from unstable connections to unresponsive customer support.
House of Marley
My friend had a House of Marley Stir It Up Wireless Turntable, and I had the opportunity to experience it firsthand.
Initially, the turntable looked impressive with its unique design. Still, we soon encountered several issues that significantly affected its performance and enjoyment.
One of the most noticeable problems was the Bluetooth connectivity.
The turntable failed to pair with the House of Marley speaker, resulting in a frustrating experience. The issue persisted even after receiving a replacement unit.
When using a hardwired connection, the sound came from only one speaker, detracting from the listening experience.
Additionally, the turntable seemed to have difficulties with balancing, and in one instance, it stopped spinning after minimal use.
Several customers have also complained about manufacturing inconsistencies, such as missing parts and loose connections.
Others experienced power issues or faulty tonearms that would skip, making it impossible to enjoy their records.
In short, despite its appealing design, the House of Marley Stir It Up Wireless Turntable leaves much to be desired regarding performance and reliability.
Given these concerns, it is among our worst turntables; you should avoid it if you seek a high-quality, hassle-free vinyl listening experience.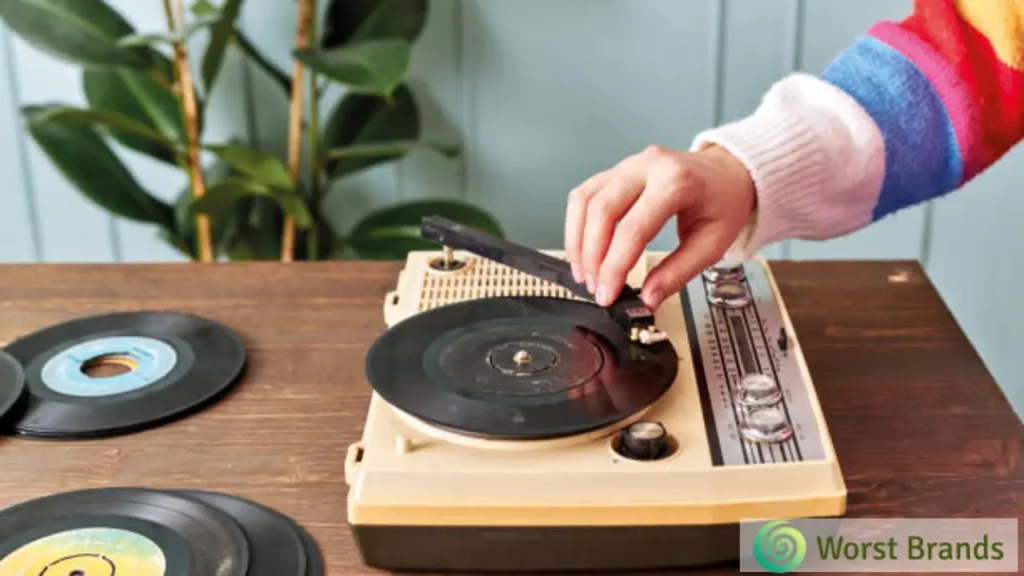 DIGITNOW Record Players
Next on our list of worst vinyl record players is DIGITNOW, and we have our reasons.
My friend Carla bought a DIGITNOW Bluetooth Record Player and soon encountered some disappointing issues.
The sound quality was underwhelming, and even after connecting external speakers, the audio still lacked the richness and depth she expected.
Moreover, the build quality of the turntable wasn't up to par, as it felt flimsy and cheaply made.
This affected the turntable's performance, with the tonearm struggling to maintain consistent tracking and the platter appearing unstable.
She also experienced problems with the record player's speed stability, leading to pitch issues and a compromised listening experience.
Carla's experience is a cautionary tale, emphasizing the importance of carefully choosing a record player brand that delivers both quality and reliability.
Final Thoughts
In summary, regarding your vinyl passion, you should seek a turntable that offers outstanding sound, seamless performance, and long-lasting quality.
Regrettably, some brands fall short of these expectations. It's wise to bypass the worst record players from Crosley, Victrola, House of Marley, and DIGITNOW to prevent unnecessary frustration.
Focus on finding brands emphasizing excellence, dependability, and top-notch customer service.
By doing your homework and benefiting from the insights of fellow enthusiasts, you're sure to discover the ideal turntable that elevates your vinyl adventures.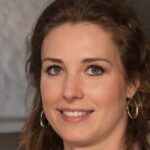 Crystal Hafley is a dedicated writer and content creator for WorstBrands, where she specializes in writing insightful reviews about kitchen appliances and fashion products.
With her expertise, Crystal provides readers with accurate and reliable information to help them make informed decisions about the brands and products they use every day. When she's not researching or writing, Crystal enjoys cooking and exploring the latest fashion trends.